Elena of Avalor Royal Debut's Viewing Party
Raising girls can be tough!  You want them to grow up to be respectable young ladies with good manners and etiquette. You also want them to be strong leaders and not be afraid to stand up for what's right. So, you can imagine how excited my daughters and I were to have the opportunity to host an Elena of Avalor Royal Debut's Viewing Party.  On Friday, July 22nd Disney Channel premiered this awesome series starring their first Latina Princess ever, and we were watching!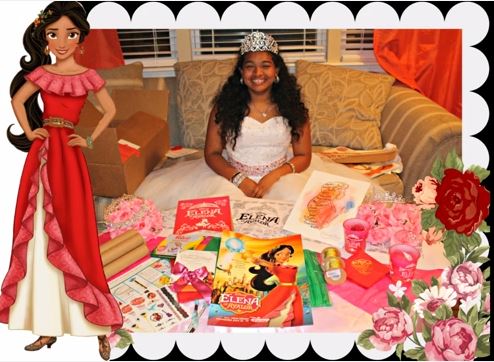 Elena of Avalor Royal Debut's Viewing Party
"Set in the enchanted fairy tale land of Avalor, the series tells the story of Elena, a brave and adventurous teenager who has saved her kingdom from an evil sorceress and must now learn to rule as crown princess until she is old enough to be queen. Elena's journey will lead her to understand that her new role requires thoughtfulness, resilience and compassion, the traits of all truly great leaders."
I have always loved all of Disney's princesses (who doesn't??) but I have to admit it was extra exciting to meet the Crown Princess, Elena Of Avalor.
We all loved seeing the Latin influences in the Kingdom Of Avalor like the food, the music and even the accents of the characters.
I think it's a beautiful way to experience the wonderful aspects of another culture with your children. Once you watch, I think you will definitely be dedicated viewers each week. We will definitely be watching every single week!
I have always been a huge believer that kids learn the most when they are enjoying themselves. Elena Of Avalor is the perfect show because Princess Elena is a great role model for Latina girls and all girls everywhere. Latina girls seeing a Disney Princess that looks like them is very special and inspiring. Girls will love this show and won't be able to get enough of it and they will be getting a very positive message while they watch. They will see a girl with self confidence and strength that is also a good person and a good friend. They will learn that it's possible to be a leader but still be loving and kindhearted.
That's a message that I want my daughters to hear clearly. We live in a world where there are lots of negative influences out there, that our kids face daily. I love that this series is a positive influence on my girls and can teach them important lessons like keeping their priorities straight and balancing the fun times with the times they need to work hard and stay focused. Princess Elena is everything that a leader should be and I love that my girls are seeing this! I'm telling you this is a must watch for girls and boys everywhere, all kids can benefit from the message of Elena Of Avalor.
Here's a fun little tip for watching together with your kids: during the commercials take a few minutes to have a "thought session". Ask your kids to tell you what they like about the episode so far and what they think the episode's message may be. Then let them speak freely until the show comes back on. You will be surprised at how much they are inspired and motivated by Elena Of Avalor. It's really interesting to hear what they have to say.
Be sure to tune into the Disney Channel each week to follow Elena of Avalor's latest royal adventures! Elena of Avalor airs on the Disney Channel on Fridays at 7:30pm ET/6:30 pm CT and 7:30 pm PT! You can also "Like" Elena of Avalor on Facebook here.
This is part of a sponsored collaboration with DiMe Media

 

and Disney Channel

. 

However, all opinions expressed are my own.
Save